SouthCoast Human Resources Council
The SouthCoast Human Resources Council is an organization whose purpose is to enhance the professional knowledge of individuals involved in any aspect of human resources management. This runs the gamut from compensation and payroll functions, benefits, safety, health, communications, recruiting and retention, labor relations, employee development and event planning, to name a few. If you're in HR, you know the list goes on and on! Our organization serves the cities of Fall River, New Bedford and Taunton as well as surrounding communities.
To make meetings accessible to our broad group, we meet at different locations and at varying times of day. Meetings are typically held on the 3rd Wednesday of the month.
The greatest benefit of membership is networking with others who experience similar issues. Some of our members are experts in specific HR functions, while others are generalists. The Program Committee prepares a lively agenda for monthly meetings from September through May to keep members informed on current issues in the constantly changing Human Resources environment.
For more information, or to become part of this council, please contact Dorothy Botelho, SouthCoast Chamber, dbotelho@southcoastchamber.com
Official Sponsors of the HR Council:
President – Monet N. Viens, PHR; Cape Cod Surgical Associates, Inc.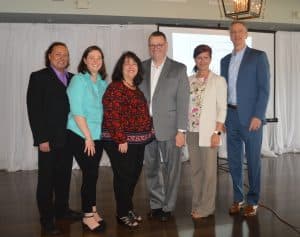 Vice President – Arthur Pacheco, Aflac, artp1@verizon.net
Treasurer – Dorothy Botelho, SouthCoast Chamber
Email: dbotelho@southcoastchamber.com
Secretary – Priscilla A. Beaulieu; BankFive
Immediate Past President – Derrick Loud, Hays Companies
Email: dloud@hayscompanies.com
General Counsel – Michael E Foley, Esq.
General Counsel Reports provided by Foley & Foley, PC
Management Moxie provided by Foley & Foley, PC