14th Annual Chowder Festival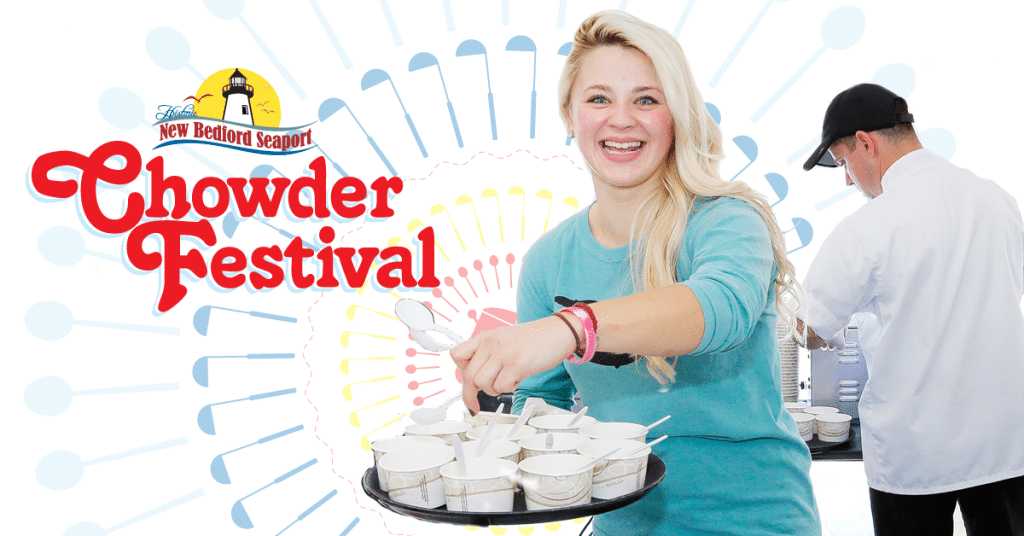 14th Annual Chowder Festival
Sunday, Oct. 13, 2019 – Noon – 5PM (tasting ends at 3PM)
The 14th Annual New Bedford Seaport Chowder Festival will have local restaurants, caterers and assisted living facilities competing for your vote!
Tickets are available prior to the event for $15, at the event for $18 per person, children 6-12 are $5, 5 & under are free.Come sample delicious chowders, soups and stuffed quahogs and cast your vote for your favorite one!
Attention Restaurants! Join us for Chowderfest!
Festival participants are featured in an intense promotional advertising campaign leading up to the event, including signs and the festival program book handed out at the event. The program book lists your business name, address, phone number, web site and a boxed logo advertisement. The center spread of the book is the voting page. Trophies and plaques will be awarded for 1st, 2nd and 3rd place winners in two separate contests. "Judges Choice" is a blind taste test competition by a panel of Judges. The tasting wraps up by 3pm and then the votes are tallied by our team of volunteers. The fun continues with live music, beer, wine, cocktails, cold drinks and desserts until the awards are presented at 4:30pm. The family fun atmosphere also features children's craft activities, outdoor tables and seating in front of the band.
There will be live music to enjoy for all ages. And also, don't forget to bring your children for a FREE ride on an antique firetruck and some good old fashion face painting!
2019 Participating Restaurants
Algarve Restaurante – 128 County St, New Bedford, MA
Barrett's Waterfront – 1082 Davol St, Fall River, MA –
Black Whale – 106 MacArthur Dr, New Bedford, MA –
The Cottages at Dartmouth Village – 274 Slocum Rd, North Dartmouth, MA
Cafe Italia – 555 Pleasant St, New Bedford, MA –
CareOne @ New Bedford – 221 Fitzgerald Dr, New Bedford, MA –
The Charred Oak Tavern – 57 Center St, Middleborough, MA –
Cove Surf & Turf – 1500 Cove Rd, New Bedford, MA –
Crowther's – 90 Pottersville Rd, Little Compton, RI –

D&D Caterers – 297 Ashley Blvd, New Bedford
Endzone – 218 Coggeshall St, New Bedford, MA
Freestone's – 41 William St, New Bedford, MA
Lindsey's Family Restaurant – 3138 Cranberry Hwy, East Wareham
Merrill's on the Waterfront – 36 Homer's Wharf, New Bedford, MA
Mike's Restaurant – 390 Huttleston Ave, Fairhaven, MA
PlanIt Eats – 154 Faunce Corner Road in North Dartmouth, MA
Seaport Inn Grill – 110 Middle St, Fairhaven, MA
Southcoast Health – 101 Page St. New Bedford
Whaler's Tavern – 24 N Water St, New Bedford, MA
Willow Tree – 12 Rockdale Ave, New Bedford, MA
2018 Blind Taste Test Judges
Thank you to the planning committee and all of the volunteers!
Casey Cole-Vieira, Esq.
Dawn Ferreira – First Citizens' Federal Credit Union
Monica Furtado – BayCoast Bank
Tara Pacheco – New Bedford YMCA
Andrew Rodrigues – Webster Bank
Greater New Bedford Regional Voc-Tech Legal & Protective Services Students
Ed Pacheco, Places to Go, LLC Transportation
Kim Laughlin – Kim Laughlin Health Coaching
Mitch Zucker PayPros, Inc.
Bradford Simmons, Aflac/Simmons Insurance Group, Inc.
Susan Finn, Susan Finn Online